Woof Pro Ultra Front Boots in Black

Woofwear Pro Ultra boots provide some of the best horse leg protection on the market and is less expensive than many similar products. The cannon bone lies fairly exposed just under a layer of skin and is therefore susceptible to high impact collisions, so 'bullet proof' protection is important and Woof boots are the most popular boots in the U.K. for good reason.............. (click on image for full details)

all red tag sales are final.
$

65.99
$105.99
You Save $40.00
in stock
SKU

1310331

Woofwear Pro Ultra boots provide some of the best horse leg protection on the market and is less expensive than many similar products. The cannon bone lies fairly exposed just under a layer of skin and is therefore susceptible to high impact collisions, so 'bullet proof' protection is important and Woof boots are the most popular boots in the U.K. for good reason. The front and hind boots are differently contoured to ensure the most protection just where it is needed and the outer shell is durable Kevlar that resists abrasion. The neoprene lining disperses heat as it is breathable. Factor in the tough polyurethane batons that fold comfortably around the leg to protect against strike injuries and the reflective badge on the front and back offers visibility in all conditions.

Price is per set.
See other listing on site for hind boots.
Color: black.
14.2-15.2h, Medium Front
15.2- 16.2h, Medium Front
16.3h+, Large Front

TheHorseStudio.com Copyrighted Review:-

I love my Woofwear ultra boots and so does my horse. Fantastic product at a value price point that encompasses great impact protection. The fit is amazingly good. LOVE them.

Please note: This is a copyrighted review and may only be published elsewhere with credit clearly denoted as "TheHorseStudio.com, The International Equestrian Shop" and with a link to The Horse Studio website URL if published online. Thank you for respecting our copyright.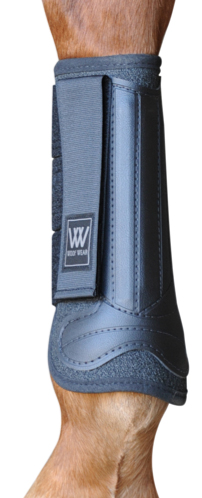 Other items you might want to order:
Haynet Trailer and Stall Use

Traditional haynet perfect for trailer rides as well as the stall, this nylon haynet has 2" holes that slows down eating. Offered in royal blue and forest green.

TheHorseStudio.com Review: Always a handy product and great for keeping your horse entertained for long period. It also saves you dollars on your hay budget as there is significantly less wastage.

TheHorseStudio.com also offers slow feed hay bags. Please see other listing.............. (click on image for larger Picture)

110078