Horse Bridle The Bonn. Snaffle Bridle. Brown. Pony Size. Just 3 left
Brown with roller noseband from select leather. This is a hot new design noseband and browband ( please see additional photos), that is well padded in self color, and includes stainless steel fittings, a full set of web reins and excellent workmanship........... (click on image for full details)
$

139.95
$249.95
You Save $110.00
in stock
SKU

1220011
Brown with roller noseband from select leather.
This is a hot new design noseband and browband ( please see additional photos), that is well padded in self color, and includes stainless steel fittings, a full set of web reins and excellent workmanship.
The web reins have rubber interwoven in webbing material to ensure a great grip, have leather hand and rein stops. This handsome bridle includes high quality roller hardware on the noseband and bright stainless steel buckles.
Imported from Germany, this excellent bridle will give years of service for the discerning buyer.
We offer this bridle in pony, cob and horse size. We also offer this bridle in a black. Approximate measurements are:-
Horse: Noseband Width 1 inch Browband Length 17 inches Noseband Length Over Head 40-44 inches Bit to Bit over head: 39-43.5inches Throatlatch 42.5 - 46.5 inches.
Cob size: Noseband Width 1 inch Browband Length 16 inches Noseband Length over head 38 -42 inches Bit to Bit Length 35-39 inches Throatlatch 39-43 inches
Pony Size: Noseband Width 1 inch Noseband Length 15 inches Noseband length over head 22-25 inches Bit to Bit Over Head 31-34 inches Throatlatch 37-41 inches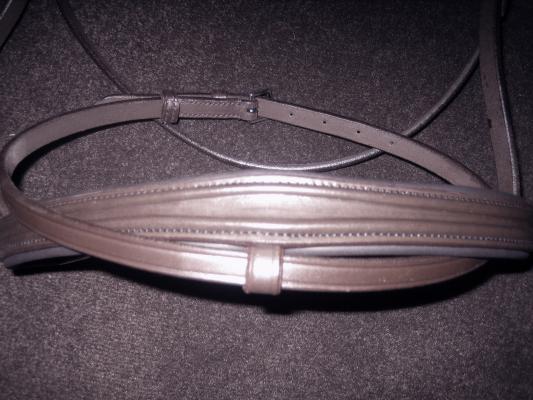 This product is included in The Horse Studio Goodwill Giving program. 5% of sales proceeds from this bridle can be donated to a charity from our charity list. Please select a charity from the list and include in the comments box of your order.
Current active list:
Northeast Hackney Rescue & Sanctuary Inc. Brookfield, NY
Athelas Therapeutic Riding Inc. Otego NY
Other items you might want to order:
Dr. Bristol Double Jointed Snaffle Bit In Stainless Steel

Double Jointed Snaffle Bit in Stainless Steel: Imported from Germany this high quality Bristol Bit is offered in three sizes with 2cm thick mouth. Loose Ring. This stainless steel bit offers the softer double joint which avoids any pinching or nutcracker action that a regular snaffle may employ over the tongue. Many horses prefer the lack of interference in the palate and will quietly mouth this bit. A soft curve facilitates a comfortable fit and the result of the double joint is to spread any bit pressure across the tongue and bars. ...... (click on image for full details)

1230001/2/3