Set of two Cavaletti in White. Super durable fits 4x4 or round poles
Set of two Cavaletti in White. Super durable and you can add either 4x 4 or round poles. This Cavaletti set provides easy assembly and are highly portable. Made of durable thick walled high density plastic there are no sharps edges if your horse runs out. You can stack them too if you like to add height and spread. The dimensions are 20 x 20 x 3.5 approx. The clever improvement in design facilitates either a round pole or 4x 4........... (click on image for full details)

$

69.00
$74.00
You Save $5.00
in stock
SKU

110022
Set of two Cavaletti in White. Super durable and you can add either 4x 4 or round poles.
This Cavaletti set provides easy assembly and are highly portable. Made of durable thick walled high density plastic there are no sharps edges if your horse runs out. You can stack them too if you like to add height and spread. The dimensions are 20 x 20 x 3.5 approx. The clever improvement in design facilitates either a round pole or 4x 4.
See also Ingrid Klimke book and DVD on Caveletti training for the horse.
Color White: Price is for a set of two.
TheHorseStudio.com Tip..set them up in a menage to train your horse to bounce jump safely working on the longe line. The low profile means your line won't snag on the edge and the ability to make a pyramid set to increase height and jump spread is very useful. For dressage riders practice your half passes through cavaletti. That sure encourages your horse to add a little elevation. Also a very good method to improve the trot is working over this height and it adds a little fun in the day for your mount!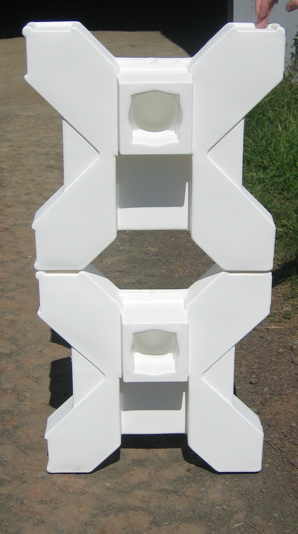 Other items you might want to order:
Give Your Horse A Chance from Lt Col. A L. D'Endrody

Hard cover. Thanks to the Duke of Beaufort, Hungarian exile D'Endrody, once a member of the Royal Hungarian Olympic Event Team and of their showjumping team, found himself out of the Russian prison and into Badminton. His life and knowledge therein of horses and the classical held approach to teaching and training - all formats - dressage/cross country and showjumping ( in addition to being race jockey for a bit), is generously shared here....... (click on image for full details)

1991536

No Hurdle Too High Margie Goldstein Engle.

Entertaining read with great insights into life at the top of the show jumping sport. The story of superstar Margie Goldstein Engle is told with honesty and frankness here none other than her mother and is an awesome and inspirational, well told account. You don't have to be a showjumping rider to enjoy this story...... (click on image for full details)

1930004