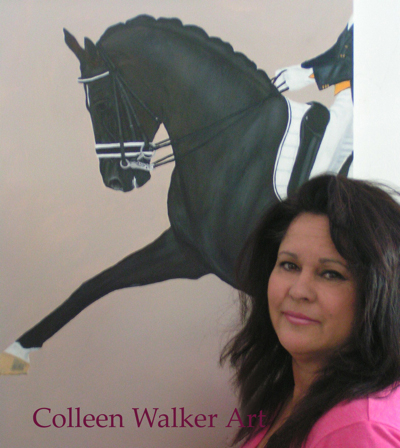 Welcome to TheHorseStudio.com Colleen Walker page.
I have been an Equine Artist for many years, it started when my mom put me in art lessons at the age of 8. I think she did this to keep me busy and out of trouble, but for whatever reason it turned out to be my passion. I have always loved drawing and painting horses, to me they are the most magnificent animals on earth. I have had the honor of owning 3 horses in my life, I rode Dressage with all of them and the one I have now is living his senior life in a pasture with his best friends.
When I am painting horses, I can almost feel the air from their nostrils breathing on my shoulders. Like they are standing right next to me. It's a cool feeling and is definitely what powers me up to create. I enjoy helping other artist's to keep their passion alive and going. I believe everyone has an artistic side, some paint, some sew, or write books or love to garden, we all have it inside, and we just need to do it!