Black Leather Handle Dressage Whip

Traditional style leather handled whip offered in black and sizes 40 and 46 inch. A great value for money.
Navy Blue.......... (click on image for more details)
$

19.99
$24.99
You Save $5.00
in stock
SKU

280036

Traditional style leather handled whip offered in black and sizes 40 and 46 inch. A great value for money.

TheHorseStudio.com Copyrighted Review:-

You can never have too many of these around. This whip is nicely made and inexpensive. Perfect for everyday use - it is a lighter weight for those that prefer it and is well balanced and well made.

Please note: This is a copyrighted review and may only be published elsewhere with credit clearly denoted as "TheHorseStudio.com, The International Equestrian Shop" and with a link to The Horse Studio website URL if published online. Thank you for respecting our copyright.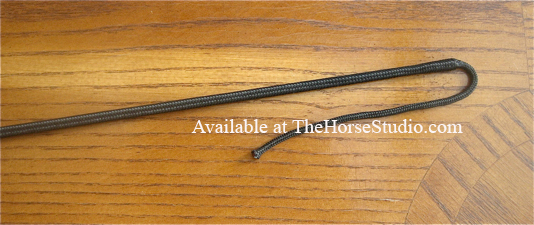 Other items you might want to order:
Dressage Whip Barrel Handle Black 43 inch UK Made

A high quality whip with a good 'flick' factor, this is made by Goddard and imported and made in England.

Color : Black

TheHorseStudio.com Review:

A unique handle (rubberized for extra grip) and this great shape keep this whip from slipping in the hand and makes life a lot easier. It is well crafted as you would expect from this British manufacturer.......... (click on image for more details)

1280033

Passage Whip from Kyra K. with lash

This whip has a lash end and slightly more flexible, the Piaffe. This flexibility makes it quicker to use and is the perfect reminder for the horse to pay attention to the leg of the rider. A well balanced whip that fits easily the ladies hand......... (click on image for more details)

Note: Clearance pricing, all red tag sales are final sales.

280014/16