Horse Halter in Pretty French Blue with Embossed Horse Design in Gold
Horse Halter in Pretty French Blue with Embossed Horse Design in Gold Color. Leather lined with Nubuck for the ultimate comfort and extremely well made. Imported from New Zealand. We wouldn't usually stock a poly type halter - but this one is very different from the norm. The clever design from down under New Zealand brings you the benefit if leather next to your horse for comfort plus the modern design of embossing ribbon - super tough and super practical........... (click on image for full details)
$

39.95
$59.90
You Save $19.95
in stock
SKU

1240008
Horse halter in Pretty French Blue with Embossed Horse Design in Gold Color. Leather lined with Nubuck for the ultimate comfort and extremely well made. Imported from New Zealand.
We wouldn't usually stock a poly type halter - but this one is very different from the norm. The clever design from down under New Zealand brings you the benefit if leather next to your horse for comfort plus the modern design of embossing ribbon - super tough and super practical. Trust the Kiwis to figure that out. This halter is a super sparkle halter is a very elegant French blue color with pretty gold horse design patterned throughout the noseband, headpiece and cheek pieces. Lots of adjustment with large easy/on off buckles. Made of poly that is super thick, with a lined nubuck headpiece and noseband for additional protection and comfort to your horse. Also available in black and dark blue, please check my listings for full size pictures in other colors, this photo shows you the detail of the design. Very nice quality, and a very sharp and original look. We took one to a show and everyone wanted to know where we bought it! The big buckles make taking it on/off very quick and particularly safe for children turning horses out. Adjustable noseband. Made in New Zealand. Imported. This halter is Full/regular Horse Size Size.
We also have this halter in dark blue and black, so please check out the other sizes and colors available here at thehorsestudio.com.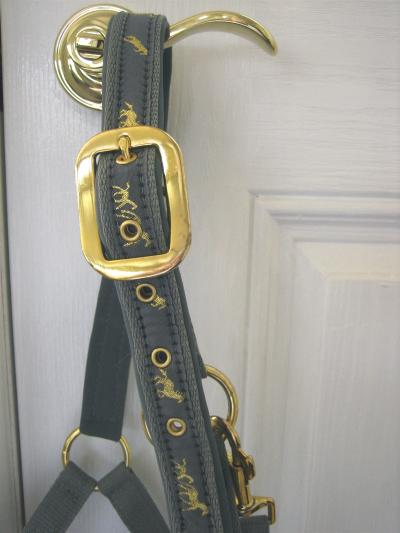 Other items you might want to order:
Suede & Crochet Pocket Book. Imported from Portugal.

These pretty handbags have lots of intricate design that makes them a soft addition to your wardrobe that enhances any look. The strap is the perfect length at approximately 23 inches to fit nicely over the shoulder in modern design, the suede and crochet work delightful. A zip top for security, an interior zipped pocket too. Inexpensive, exquisite and classic in Portuguese style.......(click on image for full details)

1611259