Breakaway Horse Halter XL 2 Colors
Safety first! This breakaway horse halter is perfect for turn out and trailering. Available in 3 colors, blue, green and black. Leather crown adjusts on both sides. Adjustable noseband and grooming clip. High quality stainless steel fittings. American made. 1 inch wide.............. (click on image for larger picture)

All red tag sales are final
$

19.95
$25.95
You Save $6.00
in stock
SKU

1240511
Safety first! This breakaway horse halter is perfect for turn out and trailering. Available in 2 colors, blue and green. Leather crown adjusts on both sides. Adjustable noseband and grooming clip. High quality stainless steel fittings. American made. 1 inch wide.

TheHorseStudio.com Copyrighted Review:-

A very reasonably priced halter with the neat safety feature of leather crown. Durable and practical.

Approximate Size:

Extra Large: Noseband 30 to 33 inches.
Height noseband over headpiece (crown) 37- 45 inches
Throatlatch 16 inches.
Please note all halters are included in The Horse Studio Goodwill Giving program. 5% of sales proceeds from this bridle can be donated to a charity from our charity list. Please select a charity from the list and include in the comments box of your order.
Current active list:
Northeast Hackney Rescue & Sanctuary Inc. Brookfield, NY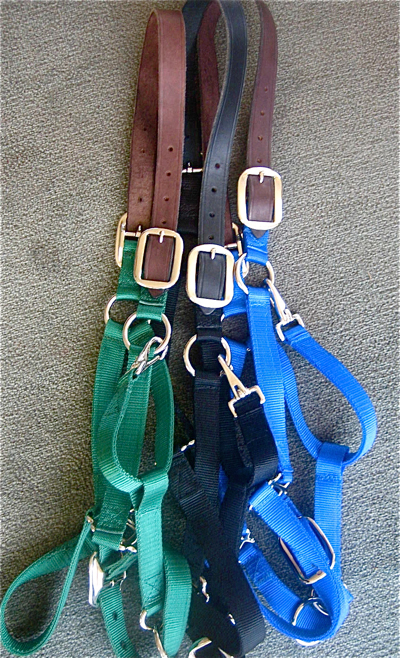 Other items you might want to order: