Irideon Cadence Stretch-Cord Breech Knee Patch Black
Compressive technology breech with chamisoft knee patch breech offering superior comfort and stretch for competition or the trail. These Cadence breeches features an over-locked edge stitched construction to prevent chafing and have gripper elastic at the ankle and a no roll waistband, ensuring that everything stays in place...................(click on image for full details)

All red tag sales are final sales and non returnable hence discount
$

65.95
$109.95
You Save $44.00
in stock
SKU

1720693
Compressive technology breech with chamisoft knee patch breech offering superior comfort and stretch for competition or the trail. These Cadence breeches features an over-locked edge stitched construction to prevent chafing and have gripper elastic at the ankle and a no roll waistband, ensuring that everything stays in place.

Color is traditional black but new this season also offered in sandstone.

The Horse Studio offers these breeches in knee patch, ladies regular sizes but we can special order the same breech in kids sizes, full seat or bootcut for women and plus sizes are also available. We can also special order other colors. Please call us on 800 986 9491 or email customerservice@thehorsestudio.com to place a special order.

All red tag sales are final sales and non returnable hence discount

Made in the USA.

Cadence materials are 92% flexed nylon, 8% lycra, and the Chamisoft knee patch is 55% nylon with 45% polyurethane.

Machine Wash.

TheHorseStudio.com Copyrighted Review:-

I tried these Cadence breeches in white and loved their support and the fact that there was no show-through. Very stretchy and comfortable to wear all day long at a show and they washed up very well. A good design and easy wear. Like much of the Irideon product line they are very fairly priced too.

Please note: This is a copyrighted review and may only be published elsewhere with credit clearly denoted as "TheHorseStudio.com, The International Equestrian Shop" and with a link to The Horse Studio website URL if published online. Thank you for respecting our copyright.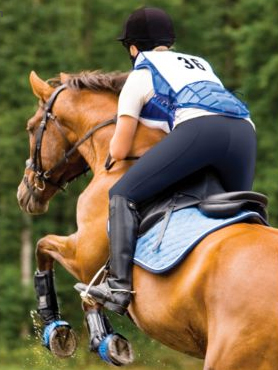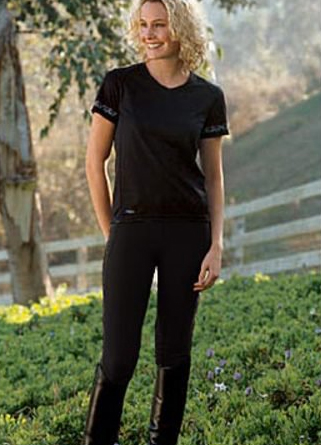 Other items you might want to order:
Bit and Reins Leather Belt in Black.

Beautifully crafted high quality leather belt with a classy bit and rein design. Comfortable to wear and handmade in the USA of the finest materials............. (click on image for full details)

Please note all red tag sales are final sales.

1720714

Eurofit Live To Ride Horse Shirt $14 Off

Add a little bling and sparkle with this black long sleeve fitted ladies shirt from Eurofit. The sparkle over the 'i' catches the light and the purchase of this shirt helps to support Habitat for Horses charity. Eurofit donate proceeds of this sale to this charity, so your purchase shows your support in making the lives of horses happier all around the world.......... (click on image for full details)

All red tag sales are final sales as marked. No returns or exchanges for any reason. Hence big discount.

1720039

Riding Jersey Radiance Parasol Irideon Sapphire

A long sleeve equestrian sport jersey that is perfect as a cool long sleeve jersey on its own or as part of a layering system for cooler weather. Active-wicking wrinkle resistant stretch fabric keeps you looking well-groomed while providing UPF50 sun protection. The elliptical hem stays tucked and provides coverage in the saddle and there is a stock loop on the back neck.................(click on image for full details)

All red tag sales are final sales as marked. No returns or exchanges for any reason. Hence big discount.

1720112