Horse Polo Wraps Bright Red Set 4 PRI

Set of four white horse polo wraps to add that total dressage look to your horse's wardrobe and a little support and protection. Size is 5 inch x 9 feet long............ (click on image for full details)
$

17.99
$24.99
You Save $7.00
in stock
SKU

1310312

Set of four super bright red horse polo wraps to add a splash of color to your horse. Size is 5 inch x 9 feet long.

TheHorseStudio.com Copyrighted Review:-

A nice quality non-pilling fleece wrap with broad and high quality velcro to keep them in place. Why not match them up with a red saddle pad or rich red riding vest. Please see separate listings for these other products.

Photo is of The Horse Studio team member Paul riding his now Grand Prix horse, Tiberio Lafite in the 'Egon' style.

Machine wash and dry.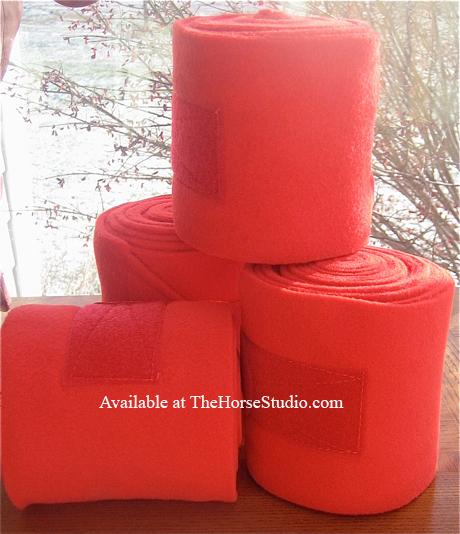 Other items you might want to order:
Saddle Pad Thermatex AP Quilted High Tech White

TheHorseStudio.com Copyrighted Review:-

A great discount price here for a very high quality product. My horse loved the springy comfort of the saddle pad, the soft extra piece for the wither area affording additional protection when jumping. The fabric washed up beautifully and the craftsmanship and finish were excellent. The heat really left his back and migrated out through the fabric and I used it in some slightly warmer weather just fine. Love it. Very durable, very comfortable for my horse. I felt he moved better.............. (click on image for full details)

1250111

Horse Polo Wraps Luxury Fleece Extra Long. Set of 4.

Horse Polo Wraps Best Quality Luxury Fleece Extra Long Non Pilling Fleece Set of 4

Note: Sorry we are currently out of stock of light blue. See other listings for more color options. Horse Polo Wraps vary widely in their quality and design and thehorsestudio.com team have searched far and wide to bring you the best of the best here at a very reasonable price....... (click on image for full details)

1310008/9

Horse Polo Wraps Set of 4 Choose your color

Think Pretty in Pink, all the colors of a beautiful summer garden to brighten your day. Dressing up your horse, protecting his legs especially while rehearsing that awesome extension or half pass, does not have to be boring. Tooting about practicing your flatwork and want to keep your horse's tendons warm and toasty - and show off his perfect rhythm, look no further........ (click on image for full details)

All red tag sales are final sales and non returnable hence discount

1310003/8