Riders Rain Poncho
Galloping horse design, adult rain poncho. One size fits all. Never get rained out again.

Made of 1.1 mil plastic. Made in the USA

Recyclable

TheHorseStudio.com Review: Cheap and cheerful, I carry a few in my horse trailer and certainly use them. Comes with hood that keeps your neck and collar dry too.............. (click on image for full details)
$

7.95
$8.95
You Save $1.00
in stock
SKU

1720105
Galloping horse design, adult rain poncho. One size fits all. Never get rained out again.

Made of 1.1 mil plastic. Made in the USA

Recyclable

TheHorseStudio.com Review: Cheap and cheerful, I carry a few in my horse trailer and certainly use them. Comes with hood that keeps your neck and collar dry too.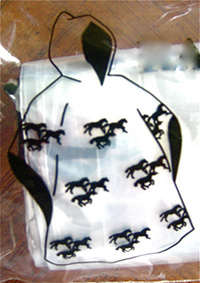 Other items you might want to order:
EOUS Endura High Tech Riding Jacket in Black 1 left

This is a beautifully cut jacket with a drop down back that keeps you warm and dry in and out of the saddle. The reflective piping adds safety in the dusk and early morning light. This is very useful for the show rider who finds themselves around trailers, barns and rings in minimal light, or for the trail/endurance rider who may find themselves around traffic...........(click on image for full details)

Red Tag items are not returnable.

1720099

Horse Show Mom's Survival Guide

Horse Show Mom's Survival Guide: Super help to make the best out of your show days. No matter what the discipline this guide will take you through all the details of how to help your child with their horse showing. This book is full of encouragement and humor. The advice provides a wealth of info that neatly guides you through every conceivable detail - e.g How to rate or change the instructor. ...... (click on image for full details)

1910016