Black Nylon Horse Lunge (Longe) Coupling Save Time
Black Nylon Horse Lunge (Longe) Coupling Save Time An invaluable item this lunge coupling makes a safe and quick adjustment to lunge training while still working in the bridle. made of durable black nylon and imported from Germany, this item has high quality hardware....... (click on image for full details)
SKU

270014
Black Nylon Horse Lunge (Longe) Coupling Save Time.
An invaluable item this lunge coupling makes a safe and quick adjustment to lunge training while still working in the bridle. made of durable black nylon and imported from Germany, this item has high quality hardware.
How many times have you started your ride on a young horse to realize he is too fresh to be safe to ride and wish to switch to a lunge lesson to settle him down? Or perhaps you like to lunge before you ride so the horse can demonstrate his exuberance at being in your company:)? Or perhaps you have an older horse that just appreciates a warm up without the rider. Use this coupling to safely take your bridle to a lunge item and maintain the all important equal pressure on the bit.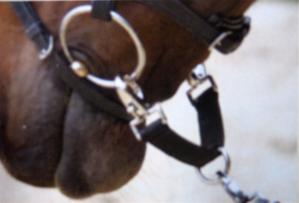 Other items you might want to order:
Halter Bridle Combo Brown Leather Solid Brass

Perfect for the trail, also very useful with training young horses to the bit. Super well made, soft leather and USA made. A lovely quality halter/bridle with solid brass fittings. Leather is thick and 3/4 inch wide. The stitching is neat and well crafted. Offered in regular horse/full size, with measurements below. Note: No reins included........... (click on image for full details)

1220032