Horse Riding Vest High Fashion Expresso color
Small Diamond Elegance and Slimming Fit. Super reasonable price too. High fashion look doesn't have to be expensive. This rich chocolate color goes with everything and the dark color adds a slimming appeal for the figure of any rider. Ultra chic smart. Flattering and unusual the small diamond quilted jacket brings a light outer layer that is very comfortable............. (click on image for full details)

All red tag sales are final sales as marked. No returns or exchanges for any reason. Hence big discount.
$

24.95
$47.95
You Save $23.00
in stock
SKU

1710054
Small Diamond Elegance and Slimming Fit. Super reasonable price too. High fashion look doesn't have to be expensive. This rich chocolate color goes with everything and the dark color adds a slimming appeal for the figure of any rider. Ultra chic smart. Flattering and unusual the small diamond quilted jacket brings a light outer layer that is very comfortable.
The vest has a water repellent moss microfiber shell and is fully lined. This princess cut jacket is flattering to the figure, and is lightweight but provides warmth for that early morning schooling session or late evening hack. It is adjustable in the back and has a comfy elastic waist, which provides a super slimming fit as well as being great to wear. The zip on front is two way for flexibility and comfort when mounted, and the pockets zip closed to ensure no losing car keys in the sitting trot. Plus the angle on the pockets provides not just the most useful position for use but also further flatters the figure. Beautifully finished, high fashion at a very reasonable price. Machine wash, dry flat. 100% polyester.
This is a super matching color with almost any breech color, underneath layer or saddle pad. A classic color that will hide any nudge mark from your horse - remembering tho that all these vests have been tested by The Horse Studio Team for durability through multiple wash cycles, fit and function, and have passed with flying colors. Everyone that has purchased this jacket has been thrilled with it with many customers coming back for more in different colors. A super reasonable price for a very high quality product. Go ahead treat yourself, whether you are blond or brunette or something between this riding vest will add elegance and sophistication at a very inexpensive price...prepare to be thrilled....
Shown over one of our exclusive "TheHorseStudio.com" T-Shirts. More colors available, please check our other listings. Pick up a few while we still have them.
This is the size chart for all sizes on the Small Diamond vests. Note vests are adjustable by 2 inches on the waist (a press stud each side) dimensions are in inches.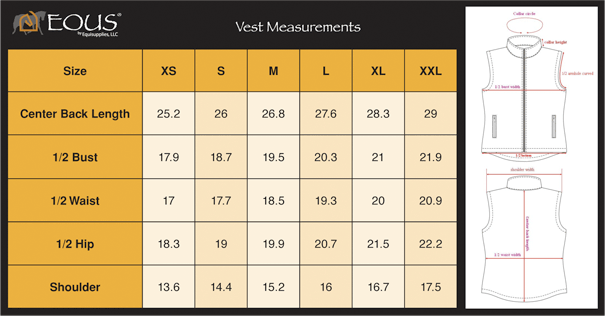 All red tag sales are final sales as marked. No returns or exchanges for any reason. Hence big discount.